Unique Alpine
Stand-alone solutions arise when craftsmanship and the courage to strike new paths meet one another.
The overall concept of the Unique Alpine tactical precision rifle is distinguished by its originality, innovative technology, and perfectionism.
Our mission is to build arms for professional users who need and demand an advanced, technically perfect weapon system with extreme precision.
The versatility of the Unique Alpine weapon system is the result of the synergy of ergonomically features and advanced technologies as well as the fully modular design.
We rely on modern design and development methods such as CAD / CAM and test procedures in the development process on the use of current and future-oriented components, materials and manufacturing processes. For example, the milling and turning parts are manufactured on high tech CNC machines.
We use superior materials and manufacturing processes only. The surroundings of greater Munich area provide us with excellent opportunities to use the know-how from other companies. Please find more information here: https://www.unique-alpine.com/en/

TPG-3
Strike problems a mile away
The TPG-3 was built from its predecessors TPG-1 and TPG-2, together with FNH USA LLC due to a tender of US Special Forces Commands (SOCOM).
The SOCOM "PSR1" tender has demanded a multicaliber sniper rifle. Based on the high modular design of each part of the rifle, we continued to develop the multicaliber ability of the TPG-1 and TPG-2 and modified it for missions under extreme conditions.
Aspects like reduced weight, consistent accuracy after barrel changes, were strictly realized. We focused the development of our barrels profiles. The .338LM`s progressive spin guarantees smallest strike pattern.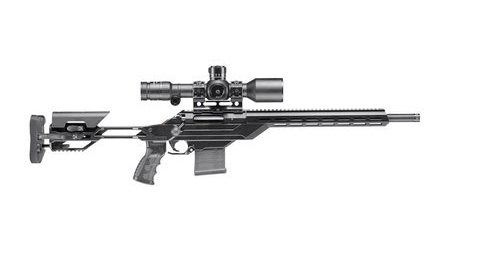 UPG
Universal Precision Rifle
Our work begins where the average ends. A new era of universal precision rifles, the Unique Alpine UPG-Series.
Based on the experiences of the tactical precision rifle TPG-3, the UPG-1 has similar characteristics, for example, a heavy match barrel with an opening thread for attaching recoil brakes and / or suppressors. Also the UPG-1 is capable to use AICS Standard Magazines. Thereby, the shooter is not restricted to a magazine and can access various brands.
Available in four calibers, different barrel-lenghts and different selectable rear shafts, the UPG-1 is unbeatable in its class!

JPR
To shoot an animal with the ultimate precision is one thing. But not the only thing. For the new generation of hunters, a successful hunt means that the animal can also be used responsibly. The new JPR-1 from Unique Alpine is the ideal gun for these hunters. Equipped with surgical precision, it combines sensible, new technologies with traditional values ​​in gun construction. The result: controlled feed, controlled ejection, 3-position firing on the firing pin and precision values ​​with a 1/2 MOA (shot with selected factory clearance).
This competence has a decades-long history: Unique Alpine is a leading specialist in military and police precision guns. And this perfection is now also available for your hands and hunting passion.
Kontakt
Du er velkommen til at kontakte os
<break<>
Har du spørgsmål vedrørende Isoleringsteknik, Industriteknik, Defence & security eller noget helt tredje, så skriv eller ring til os. Vil du i kontakt med en af vores ansatte, kan du få et overblik her under.</break<>